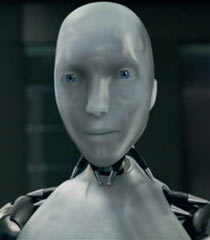 "There's now a 'burning platform' for change where the cost of *not* changing is greater than the cost to change" – @dtapscott
The sessions below were part of the Connect Expo (April 2014) and 'The Next Big Thing' summit – and they captured some of the interesting things that are happening in relation to the Internet of Things. Keynotes from Don Tapscott and Sebastian Thrun keynoted – blogged about in previous posts.
Strong emerging ideas included:
the way robotics are being developed to support gaps in service provision – repetitive tasks, care for the elderly (not necessarily the same thing…;)
the way technology that exists in close proximity to the way we live our lives can become 'persuasive'
the ethics related to the way our publicly shared data is being mined to hone the way marketeers ply their trade.
---
He began with an overview of the projects he's been involved in, saying that the existing world and new tech evolve together
iRobot & the Roomba vacuum cleaner ($200 – "how much can you send without your spouses permission?" – products will change as people need them
Designing for a world where no one ever reads the instruction manual
Packbots – in Iraq and Afghanistan, with a gaming interface – match the user and the design.
Unless the tech is useful for people it won't just come out and be everywhere.
"The physical appearance of a robot makes a promise"
Again, this was another speaker who highlighted the crisis in falling adult unemployment through aging populations and how we will address the demands in this space. Will we see 'elder care' robots? Robots will be touching people, providing care and services.
---
David Rose – Enchanted Objects and the Internet of Things
David said he is on a mission to dissolve technology into everyday things, to add motion and magic to our everyday lives, as reflected in his book. You can check out his ideas in this TEDx talk:
A few examples of his pretty amazing projects:
Google latitude doorbell
Glowcaps to remind you to take prescriptions
Cityhome, manipulated home
Energy joule, monitoring energy consumption
Technology in one's periphery means that people use low cognitive load to access the information. The information becomes persuasive. He has explored themes from tales of enchantment as a way to inspire innovation:
Omniscience, like in crystal balls e.g. measuring wind, pollen, air pressure, emergery use
Telepathy: dying plants that tweet, dogs location, the Weasley clock [crossing geofences on the way home], feedback on credit spending behaviours
Immortality – Glowcaps increase accuracy of taking drugs – implications for phama companies, tech companies,insurance, dollar cost on health services
Mobility: The Copenhagen Wheel
LIfelogging:  wearable camera
Enchanted trash can to track consumption
---
Also in this session:
Maciej Kranz, CISCO, talked about the Internet of Things…
In 2020 50 billion devices will be connected to the network
Every new car connected in the next 3 years
Economic impact: over the next 10 years, additional profit $90 trillion generated by the internet of things.
..while Tony Walsh, Phantom Compass, talked about Artificial intelligence
---
Data Mining
Of great interest were discussion and presentations on how marketeers are mining piblic shared data seemingly without permission. Data Miner, Ditto and Digivizer. Check out this tweet stoush as an example of views from the room.
---
This day raised a bunch of questions for me – as well as blowing my mind satisfyingly –  such as:
How to manage your privacy in a world where your data is being mined without your knowledge?
How can we balance the environmental concerns with this kind of development and consumption?
How to support young people to learn to think critically, to ask about how their data is being used?
To what extent are market researchers who mine social networks now taking advantage of the way tech is central to being a citizen?